A new era of military and political focus is upon us my friends! A big geographic shift is underway for US armed forces! ...and that shift is to Africa! Perhaps dozens of discrete air/drone bases are probably being built across North Africa and the Middle East, and the first one just "officially" opened in Ethiopia…a country that the US is already militarily tight with, as they help fight radical groups in neighboring Somalia. And what cannot be a coincidence, the Obama administration just sent 100 military advisors to Uganda to help quell a terrorists group there too. As times and threats change, so does US foreign policy, troop deployment, and geographic focus for action. Africa is the future!
Keywords: Africa, Ethiopia, Somalia, US, military, drones, air base, al-Shabab, Uganda, Lords' Resistance Army Joseph Kony, terrorists
Sweet Sub-Saharan salvation! The outside world is finally, finally, finally looking to truly invest in the future of Africa…and this interest in the continent is certainly going to trigger other parties to get into the game as well! The country kicking off this race for investment and influence in Africa is none other than India! Indian Prime Minister Manmohan Singh just finished a three-day tour of Africa in which billions of dollars of credit and infrastructure aid has been promised, the first-ever serious long-term investment strategy in the region of the planet that has long been marginalized. All the pundits are raging about how this sets India in competition with China, who has long been a investor in Africa focused on resource extraction. But the Avenger knows there is much more to the story than that! Africa stands to gain big-time, long-term from the events being initiated right this second, so tune in an find out the bigger impacts to the region, to India, and the world!
Related Stories:
Counter the Dragon: With $5 billion pledge, India takes big step into Africa
With $300mn aid, for relay line India enters China territory
India Plans $5 Billion Credit Line Over 3 Years for Africa for Development
We fully support African position on Libya: India PM

Keywords: India, Africa, AU, African Union, UN Security Council
Synopsis: 'Mad Dog' Muammar Gaddafi, the leader of Libya, announced this week that he thinks Nigeria should split itself into two different countries based upon religious lines. What the hell is this dude spouting about? He is basing his opinion on Muslim/Chrisitan violence which recently claimed the lives of several hundred Nigerians in and around the city of Jos, and has been an endemic problem for Nigeria for decades. The Plaid Avenger describes the situation and gives you some interesting insight into Nigeria, the Islamic legal code of Sharia, and even deeper insight into why this violence cannot be simply explained away as a difference of religious beliefs.
Related Stories:

Keywords: Nigeria, Jos, Shaira, Muammar Gaddafi, Muslim, Christian, religious violence
Synopsis: An internationally-brokered power sharing deal to 'redistribute' political power within the crumbling state known as Zimbabwe has just been implemented today. Morgan Tsvangirai, the opposition MDC leader, is now the Prime Minister of the country to Robert Mugabe's president position. The Avenger elaborates on why Mugabe would allow this to happen and why these moves are a total sham.
Is Zimbabwe Now a Rogue State?
Robert Mugabe: What an asshole.
Zimbabwe Unity Cabinet Sworn Amid Concern Over Arrest Of MDC Official
Mugabe says only God will dethrone him
Keep in Touch with Plaid Updates
Get the University Textbook
The Plaid Avenger's World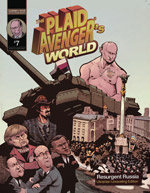 Are you a college professor teaching World Regions or Global Political classes? Pick up the cutting edge, most entertainly educating textbook currently on the market.
Preview
Get the Comic Books
Issue 2: Battle For Burma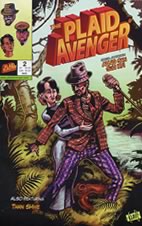 Well, the battle for the heart and soul of this country is on, but no one outside Burma seems to be able to do a damn thing about it! Why not?
Preview