Holy horrific un-natural disasters! A Malaysian Airlines passenger plane with 295 people was just shot out of the air over eastern Ukraine today killing everyone onboard! The Professor pontificates on how this bizarre attack will be spun in the press, as well as why the pro-Russian rebels and Russia itself will be pushed to significantly modify their objectives in Ukraine after this international incident.
Keywords: Ukraine, Ukrainian, Malaysian Airlines, disaster, rebels, military, Russia, secession,
In this second podcast on the rise of ISIS, the Professor points out a variety of repercussions (to the region and the world) from the declaration of an Islamic State by the radical group that has been destabilizing SYria and Iraq. Some of the ripples in the pond caused by this ISIS rock include: re-thinking rebel/Assad support in Syria; an independent Kurdish state; a large Sunni-Shia schism; and most importantly, a possible thaw in relations between the US and Iran, and Iran and the Arab states.
Related Plaidcasts:
Iraq is A-Wreck

Keywords: Iraq, Iran, ISIS, IS, Islamic State, Islam, Sunni, Shia, Shiite, Wahhabism, Ira-Iraq War, Saddam Hussein, Syria, Arab, Persian, Persian Gulf, oil, Saudi Arabia, US, Russia, Kurds, Kurdish, Kurdistan
Holy historic spaces! Has it really been 70 years? Indeed! on June 6th 2014, we commemorate the 70th anniversary of the D-Day invasion of Normandy, France….a major turning point in World War 2, and even in world history, the repercussions of which we can still see today. This place, on this date, is when "Team West" was born, creating an entity that defines the modern world like no other, and has hugely shaped the path of the planet for 7 decades. This podcasts deals with just a few aspects of the geography of this particular military maneuver and its global repercussions.
Keywords: WW2, World War 2, Normandy, Normandy Invasion, Operation Overlord, Operation Neptune, Atlantic Wall, Allied Powers, Allies, Nazis, Europe, USA, Canada, UK, NATO, EU, UN, Omaha Beach
Turkish Prime Minister Recep Erdogan temporarily banned Twitter last week, followed by a brief ban on YouTube! OMG how did the peeps of Turkey survive for a day without it? lol The more important question is: why did that happen? Watch this 20 minutes on Turkey to get the background of protests that have occurred across the country for months, allegations of corruption again the government, and even the recent elections of March 30….all of which relate to what this story is really all about. Is Erdogan devolving into a dictator? Is Turkey turning into a theocracy? Doubtful, as the Professor pontificates about in this podcast.
Related Stories:
Turkey bans Twitter — and Twitter explodes
Turkey's most chaotic elections
Turkish PM claims landslide election win
Turkey elections: It's time for reconciliation

Keywords: Turkey, Prime Minister, AK Party, AKP, protests, corruption, Twitter, YouTube, banned, Hizmet, Gulen, election, politics, Republicans, urban, rural, conservative, liberal, secular, democracy, theocracy
So why is Venezuela suddenly on fire with protest? A simple question, with no simple answer actually. A month of violent protest and crackdowns has gripped the country, as it marks the one-year anniversary of the passing of socialist firebrand Hugo Chavez. Related events? Everything always is. In short, we have a society in a ideological showdown with itself; a battle over socialism that might possibly be heading for its endgame. In this special long form podcast, the Professor tries to explain how policies and politics of the last decade and a half have now turned the great state of Venezuela into a ticking time bomb…with no clear picture of what will be left after the explosion.
Keywords: Venezuela, Maduro, socialism, Caracas, protests, violence, San Cristobal, Colombia, Panama, USA
Keep in Touch with Plaid Updates
Get the University Textbook
The Plaid Avenger's World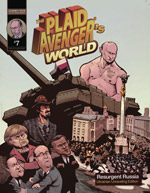 Are you a college professor teaching World Regions or Global Political classes? Pick up the cutting edge, most entertainly educating textbook currently on the market.
Preview
Get the Comic Books
Issue 2: Battle For Burma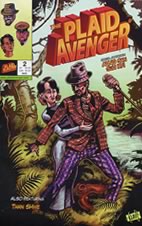 Well, the battle for the heart and soul of this country is on, but no one outside Burma seems to be able to do a damn thing about it! Why not?
Preview