From good things happening with the climate to a famed sandwich coming back…
October 9, 2020
On January 23rd 2017, on his first day on the job, US President Donald Trump issued an executive order pulling the USA out of the TPP. That was the Trans-Pacific Partnership, a 12-nation free trade block that former President Obama had worked to get passed for years. In this podcast, the Professor outlines the TPP-tanking process, who liked it and who hated it, the potential impacts to major world players, and ideological free-trade fallout due to this now-defunct deal. TPP party on!
Related Plaidcasts:
In Other News…the TPP: Trans-Pacific Partnership

Keywords: TPP, free trade, USA, Trump, Pacific, China, ISDS, RCEP, Asia, Japan
Rio de Impeachment! It has happened! The current President of Brazil Dilma Rousseff is going to be impeached! The Professor made this impeachment podcast for you before the final vote was even tallied, but it has since come to pass, and what was passed was the start of the full-on impeachment of Brazil's first female President, which will leave the country in political turmoil just before they host the summer Olympics this year! This political turmoil adds to the economic turmoil, the corruption turmoil, and the overall angst turmoil that is seeing South America's largest country and economy falling apart! The Professor explains why, and looks at the broader meaning of this for Latin America!
Related Plaidcasts:
Dilma's Democratic Dilemma in Brazil

Holy Boko Haram in the hot-seat! A big election just went down in the "Giant of Africa" which is Nigeria! President-elect Muhammadu Buhari will soon be taking the top slot of power there, and this spells HUGE changes for the corrupt politicians and peeps currently on the take in this super state, but even more importantly, it spells DOOM for the radical insane clown posse known as Boko Haram! In this podcast, the Professor introduces the new boss, explains why the old boss lost, and why this awesomely democratic election is a watershed event for a brand new era in Nigeria!
Keywords: election, Buhari, Muhammadu, Hausa, Boko Haram, corruption, terrorism, radical, Islam, All Progressives Congress (APC), People's Democratic Party (PDP)
Keep in Touch with Plaid Updates
Get the University Textbook
The Plaid Avenger's World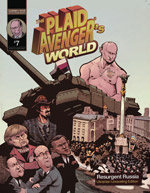 Are you a college professor teaching World Regions or Global Political classes? Pick up the cutting edge, most entertainly educating textbook currently on the market.
Preview
Get the Comic Books
Issue 2: Battle For Burma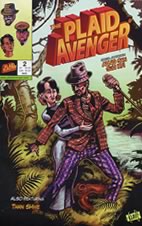 Well, the battle for the heart and soul of this country is on, but no one outside Burma seems to be able to do a damn thing about it! Why not?
Preview