Let's get rude with the crude! What's up with dropping oil prices world wide? Like the Titanic, they are going down my friends, and that has titanic geopolitical consequences for a whole lot of countries. The Professor points out the winners (USA! USA! USA!) and losers (sorry Russia!) of the precipitous petroleum plunge!
Keywords: oil, petroleum, OPEC, frack, fracking, USA, Russia, Saudi Arabia, supply, demand, China, Japan, EU, India, Iran, Iraq, Venezuela, Qatar , Libya, the United Arab Emirates, Algeria, Nigeria, Angola, North Dakota
What is up with the 43? The 43 kidnapped (and likely assassinated) students sparked a nation-wide protest in Mexico, a protest now spilling into the USA…and is symptomatic of a huge drug problem that ain't going away. Get the Professor lowdown on this specific current event, and its role in the overall nasty narco-story of the North American continent. And dig these other vintage podcasts that refer to the Mexican War on Drugs in more detail:
Cool Calderon Bags a Barbie Part 1 at plaidavenger.com/plaidcasts/cool-calderon-bags-a-barbie-part-1/
and
Cool Calderon Bags a Barbie Part 2 at plaidavenger.com/plaidcasts/cool-calderon-bags-a-barbie-part-2/
Related Plaidcasts:
Cool Calderon Bags a Barbie (part 1)
Cool Calderon Bags a Barbie (part 2)

100 Iraqi Kurdish fighters are flying into Turkey today to cross the border into Syria in order to help out some Syrian Kurds who are defending the town of Kobane from ISIS….but Turkey ain't none too happy about this. Say what? Why would Turkey not want to help defeat the extremist IS group? Because over the long term, they are more concerned with Kurds than with the crazies! Confused? Then dig this podcast and get a Kurdish clue!
Keywords: Turkey, Kurds, Kurdish, PKK, Peshmerga, Iraq, Syria, Kurdistan, IS, ISIS, ISIL, Kobane, Erdogan, Assad, civil war, devolution, Islam, Islamic, WW1
Ebola! Yikes! Is it the most lethal virus the world has ever seen that might wipe out the human species, much like a Zombie moive? Not likely. But the Professor goes long form in this podcast to point out the geography, history, and true danger potential of this virus that has captured the attention and imagination of planet earth..and indeed could very well play out to a horror movie-style finale in Africa.
Keywords: West Africa, Ebola, infection disease, healthcare, epidemic, Africa
Holy Hong Kong Phooey! Pro-democracy protest have erupted in Hong Kong, shutting this world city down, and causing a direct face-off with the powerful Chinese government! The Professor explains the background of this flashpoint face-off, and the repercussions that will impact the city, the state, and the century to come! It's a big HK democracy deal! Or is it?
Keep in Touch with Plaid Updates
Get the University Textbook
The Plaid Avenger's World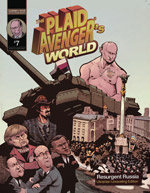 Are you a college professor teaching World Regions or Global Political classes? Pick up the cutting edge, most entertainly educating textbook currently on the market.
Preview
Get the Comic Books
Issue 2: Battle For Burma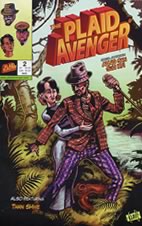 Well, the battle for the heart and soul of this country is on, but no one outside Burma seems to be able to do a damn thing about it! Why not?
Preview