Holy Boko Haram in the hot-seat! A big election just went down in the "Giant of Africa" which is Nigeria! President-elect Muhammadu Buhari will soon be taking the top slot of power there, and this spells HUGE changes for the corrupt politicians and peeps currently on the take in this super state, but even more importantly, it spells DOOM for the radical insane clown posse known as Boko Haram! In this podcast, the Professor introduces the new boss, explains why the old boss lost, and why this awesomely democratic election is a watershed event for a brand new era in Nigeria!
Keywords: election, Buhari, Muhammadu, Hausa, Boko Haram, corruption, terrorism, radical, Islam, All Progressives Congress (APC), People's Democratic Party (PDP)
Ebola! Yikes! Is it the most lethal virus the world has ever seen that might wipe out the human species, much like a Zombie moive? Not likely. But the Professor goes long form in this podcast to point out the geography, history, and true danger potential of this virus that has captured the attention and imagination of planet earth..and indeed could very well play out to a horror movie-style finale in Africa.
Keywords: West Africa, Ebola, infection disease, healthcare, epidemic, Africa
Greetings from one of the most scenic cities on the world! Cape Town, South Africa has one of the most distinct and recognizable cityscapes/geographies of Africa, and the Professor climbed a mountain to give you a physical view of the place, while giving you a cultural overview of the place and its role in today's South Africa.
One of the most iconic figures of the 20th century, and father of the modern South African state, Nelson Mandela is truly a man beloved, respected, and admired across the entire planet. Join the Professor in Nobel Square, Cape Town for a quick overview of the man, of his life and times, and the impact he has had to this nation and the world….including what the future holds for this state post-Mandela.
Just off the coast of Namibia, the Professor encounters one of the most unique and interesting arid coastal areas in the world: the Namib Desert….and that prompts him to chat in the chilly air about how and why coastal deserts form all over the world, in very specific areas, due to very specific forces of physical geography. Watch this podcasts for the low down on ocean currents, wind patterns, and even spooky skeleton shipwrecks!
Keep in Touch with Plaid Updates
Get the University Textbook
The Plaid Avenger's World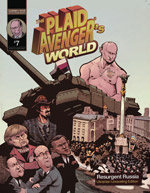 Are you a college professor teaching World Regions or Global Political classes? Pick up the cutting edge, most entertainly educating textbook currently on the market.
Preview
Get the Comic Books
Issue 2: Battle For Burma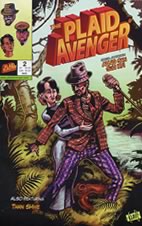 Well, the battle for the heart and soul of this country is on, but no one outside Burma seems to be able to do a damn thing about it! Why not?
Preview