Africa's first fully developed and modern state? Well, that is what the great state of Ghana hopes to become in the very near future, and the Professor explores the modern history and current state of affairs here in Ghana to talk about what this country has done so differently from other Sub-Saharan Kwame Nkrumah, African states in order to achieve that goal. Their path to modernity has a lesson or two for other African states that are also rapidly developing here in the 21st century. Is the African century upon us? We shall see! Go, go, go Ghana pride!
Live from a cluster of cannons at the Coast Cape Coast Castle & Dungeons, on the Gold Coast of Ghana, the Professor podcasts about the historic relevance of this particular place as the original center of European expansionism, colonialism, and globalization….an epicenter of extracting stuff and relocating slaves that was to affect 3 continents and shape cultures the world over!
In another 2013 world leader update, the Professor focuses on France, where a surprising turn of events has suddenly shown French President François Hollande as a force to be reckoned with, nationally and internationally no less! With his political party and allies commanding a majority of the government, he has the power to make things happen, and he is now riding that train for all it's worth here at the onset of the new year. From tax policy to labor contracts to social policy, Hollande is moving forward with clarity and resolution that is enviable in most of the other grid-locked democracies. And the final kicker? Hollande has now thrust France back into the international power regime by sending troops to take back Mali from radical Islamist and terrorist groups! France leading the way militarily? How the hell did that happen? Who knows, but this Hollande guy is one to watch as he brings France back into contention as a significant global player.
Keywords: France, taxes, austerity, social policy, gay rights, labor reform, Germany, Europe, US, Mali, Islamist, terrorists, colonial power, West Africa, war on terror
All hell is breaking loose in the small west African state of Senegal, and the revolt is led by a revolutionary rebellious posse of rappers! What is the fuss about? Unfortunately, the public-dissent-turned-violent-street protests are over an all-too-common issue in Africa: political corruption. The current 90-year old Senegalese President Abdoulaye Wade has gone down the path of so many other African leaders before him: changing laws and diminishing democracy in a desperate bid to cling to power at all costs after his mediocre 12 years in office…now running for an unprecedented third term, in election being held this week. This story is fascinating in its implications for maturing democracies in Africa, as well as the true power that music and rap offer to oppressed peoples everywhere. Good stuff!
Keywords: Senegal, Dakar, Africa, Abdoulaye Wade, rappers, rap, Y'en a Marre, Enough is Enough, democracy, corruption
Happy holidays friends! But not so happy in Nigeria where 3 separate attacks against Christians were carried out on Christmas Day by the radical terrorist group Boko Haram. These attacks have shaken the Nigerian people and government, and may lead to a full-on religious war in the country…but they are also symptomatic of a global phenomenon of violence against Christians this year that has also flared in Egypt, Iraq, and even Indonesia. Watch this to learn more!
Keywords: Christmas, Christians, Nigeria, Muslims, Boko Haram, Egypt, Coptic, Iraq, Indonesia
Keep in Touch with Plaid Updates
Get the University Textbook
The Plaid Avenger's World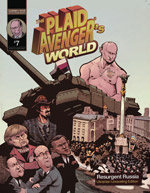 Are you a college professor teaching World Regions or Global Political classes? Pick up the cutting edge, most entertainly educating textbook currently on the market.
Preview
Get the Comic Books
Issue 2: Battle For Burma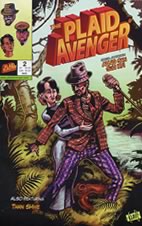 Well, the battle for the heart and soul of this country is on, but no one outside Burma seems to be able to do a damn thing about it! Why not?
Preview