So much sovereignty shenanigans happening across the planet right now that the Professor was compelled to crank out an update! Due to the actions of both Russia in Ukraine and ISIS in the Middle East, it appears that the modern definition of sovereignty (based on mutual recognition and UN rules of conduct) is now defunct, and the old school rules of 'protecting tribe' and 'defendability' are back in play. In addition, he chats briefly about Scotland, Kurdistan, Palestine, and other areas were sovereign state status is somewhat mysterious!
Keywords: Scotland, Kurdistan, Palestine, IS, ISIS, Russia, Ukraine
A 21st century power battle has begun, and not many are paying attention to it. No, it's not a military showdown…it is the amount of economic power that corporations increasingly hold over sovereign states. Back in the day, the states called the shots, but more and more power is being siphoned to multinational corporations and financial houses, at the expense of governments. This run-down of a couple of current events shows two opposite approaches: India just dissed a drug company's power, while the US simultaneously reinforced a food company's power. Dig this, and rage along with me!
Related Stories:
Novartis loses landmark India cancer drug patent case
'Monsanto Act' Passes

Keywords: India, Novartis, drug, trademark, patent, intellectual property rights, USA, Monsanto, food, GMO, genetically modified foods, sovereign state, multinational corporation, power, power struggle, legislation, corruption, greed
All is not well in Pakistan, and specifically not well with their un-well President. Pakistani President Asif Zardari is currently recovering from a probable mild heart attack…but he is doing in in Dubai! His health, along with something called "Memo-gate" have put Zardari in a particularly precarious position for a possible military coup by Pakistan's most powerful person, General Ashfaq Kayani. Possible coup alert! Are the generlas going to return to power in this troubled state? Let's stay tuned!
Keywords: president, general, military, coup, Dubai, Memogate, Pakistan
On December 5, 2011 Burmese democracy leader and Nobel Peace Prize Winner, Aung San Suu Kyi had a Skype interview with Virginia Tech geography Professor John Boyer and his 3000 student World Regions class.
Keywords: burma, myanmar
Keep in Touch with Plaid Updates
Get the University Textbook
The Plaid Avenger's World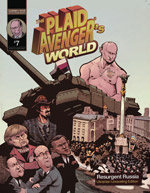 Are you a college professor teaching World Regions or Global Political classes? Pick up the cutting edge, most entertainly educating textbook currently on the market.
Preview
Get the Comic Books
Issue 2: Battle For Burma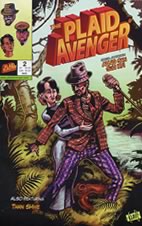 Well, the battle for the heart and soul of this country is on, but no one outside Burma seems to be able to do a damn thing about it! Why not?
Preview