A 21st century power battle has begun, and not many are paying attention to it. No, it's not a military showdown…it is the amount of economic power that corporations increasingly hold over sovereign states. Back in the day, the states called the shots, but more and more power is being siphoned to multinational corporations and financial houses, at the expense of governments. This run-down of a couple of current events shows two opposite approaches: India just dissed a drug company's power, while the US simultaneously reinforced a food company's power. Dig this, and rage along with me!
Related Stories:
Novartis loses landmark India cancer drug patent case
'Monsanto Act' Passes

Keywords: India, Novartis, drug, trademark, patent, intellectual property rights, USA, Monsanto, food, GMO, genetically modified foods, sovereign state, multinational corporation, power, power struggle, legislation, corruption, greed
A quick rundown of the impacts, short and long term of Hugo's death.
A pre-election raging rant on the US economy is in order! What sparked the Professor's prolific and pugnacious prattle on this topic? 1)A story on the powerhouse manufacturing sector in Germany combines with 2)the total lack of any serious debate on this topic by the two wanna-be presidential contenders, as usual. Would love to hear your opinions on the state of the US economy and the US workforce in comparison to Germany's….and your thoughts on how the US as a society should be fixing it's sorry state of affairs.
Related Stories:
Germany's secret to staving off the eurocrisis? Manufacturing.
WORK IS NOT THE ENEMY

Despite US Secretary of State Hillary Clinton's successful professional career and intense work ethic, she often comes under attack from abroad, sand at home. What is up with all their Hillary hatin'? The Professor offers a few thoughts about why the most politically powerful woman in US history so often is targeted for attack…but he is more interested in your opinions on Madame Secretary and the former first lady as well.
Related Stories:
Hillary Clinton China Visit: Chinese Media Attacks Clinton for US Position on Human Rights in China
Hillary Clinton's last tour of the Middle East
Hillary tours the African frontlines of America's war on terror
Clinton urges Russia over rights
Pakistanis burn effigy of Hillary Clinton

Keywords: Secretary, of, State, US, China, Russia, Pakistan, DNC, women's rights, human rights, hating
Mexico just elected a new President last week! Woo-hoo! Yeah right, like most Americans can even locate Mexico on a map, much less care about politics happening south of their border. But you smart plaid followers understand that the profound significance of a possible policy shift based on a new president, from the opposing political party, taking the helm of one of the US's biggest trading partners…and more importantly, taking control of the bloody 'Drug Cartel War' occurring in that country…which is of great significance to our country! Pick up some pointers in this Peña guy, and his possible policy shifts in this professor podcast.
Related Stories:
Drug war fury awaits Mexico's Pena Nieto
Mexico's New President Signals Shift in Drug War Policy
What kind of PRI will rule Mexico?
Mexico's Telenovela President: Enrique Peña Nieto's Saga of Scandal, Gaffes, and Connections

Keywords: Mexico, Peña, Enrique Peña Nieto, PRI, PAN, cartels, drug war, Savages, Spiderman, lucha libre, luchador
Keep in Touch with Plaid Updates
Get the University Textbook
The Plaid Avenger's World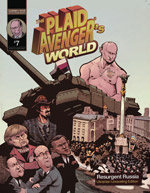 Are you a college professor teaching World Regions or Global Political classes? Pick up the cutting edge, most entertainly educating textbook currently on the market.
Preview
Get the Comic Books
Issue 2: Battle For Burma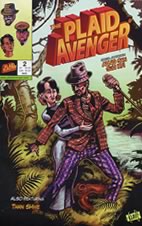 Well, the battle for the heart and soul of this country is on, but no one outside Burma seems to be able to do a damn thing about it! Why not?
Preview